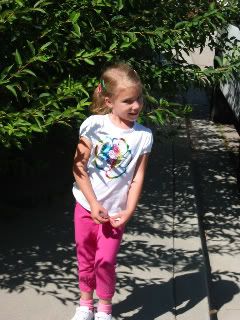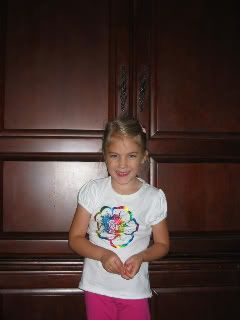 Kendra, I sure love her!!!!!!!!! Nervous and excited for Kindergarten. Who knew it could be so stressful!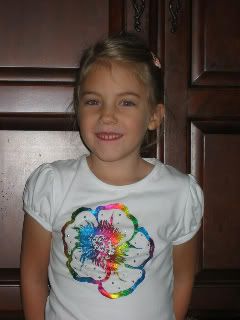 Yesterday was Kendra's first official day of Kindergarten. She was excited and nervous at the same time. For the past several days she kept asking:
"What if I can't do it?"
"What if I can't do my homework?"
"I don't know if I can do this"
I tried to tell her that it would be like preschool, that she would have lots of fun and would learn to do many things. When I picked her up from school, one of the first things she told was,
"It wasn't like Preschool mom!"
I asked her about her day, and she told me she had M&M's in her bag for homework. I asked her about her favorite thing, what stories she heard, did she make friends. She told me her favorite thing was the playground, she couldn't remember the stories because she didn't know them, and she helped a girl that fell down in the playground. Other than that she wouldn't tell me much.
We got home and looked in her bag and found the package of M&M's. With it was a note to ask questions according to colors of the candy.
My first Day of Kindergarten:
A Rainbow of Fun!
1. Have your child open the package of m&ms and choose a color.
2. Read the question that goes with that color of m&m.
3. Have fun talking with your child about the first day of school!
Red: What is your teacher's name?
Mrs.. Belnap
Orange: Tell about a new friend in your class
I helped a girl that fell down in the play ground, but I don't remember her name.
Yellow: Tell about your favorite thing you did at school?
Play in the play ground
Green: Tell about a rule you learned at school
I need to listen to my teacher.
Blue: Tell about your favorite part of your classroom.
Playing outside.
Brown: Re-tell a story that your teacher read to you today.
About Panda's that don't go to school. Little panda didn't want to go to school.
This morning Michael is home and as soon as Kendra sees him she starts telling him all about school. You should have heard her chatter up a storm. Telling him about playing outside, lining up to go into school. How there are two doors in the classroom, one that goes into the school and one that goes outside. She was non stop about school. I couldn't stop laughing, he got more out of her in that 5 minutes that I did all day yesterday, asking her all kinds of questions about kindergarten. Go figure it takes a dad for a little one to open up to about her first day of school.
Abbie had to have her picture taken too. She is wearing a cute skirt that she loves, loves, loves that her Aunt Snobaybe gave her.