Poor Anne is confused about my children. I suppose that is easy to do since I post about the two little ones all the time. So here we go, the scoop on my children.
I have 4 amazing wonderful and sweet children.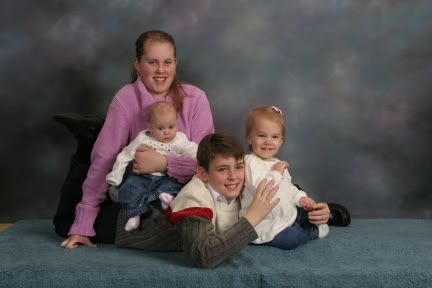 My oldest, Natasha is 16 and the new licensed driver. She is on the school swim team plays the viola and the piano. She is quiet and sweet. She is the laurel president in our ward. She works at a movie theater and is enjoying being a teenager!
My second is Collin, my only boy. He is a happy joyful boy whose entire focus in life is to have fun. He is 12 soon to be 13. He starts Junior High in a couple of weeks. He is a scout, and a deacon. He is also learning to play the piano, under a bit of duress. :)
He is a great kid and I love him for a son.
We went several years believing we would not be blessed with more children when we were sent little Kendra. She is 2 years old, learning to talk, sharp as a tack, and turning into quite the boss. She thinks she can tell everyone else what to do. :) She loves books, her colies (crayons), and to play with toys. She is starting to show interest in potty training and has been a great joy to have in our home.
Last but not least is out little sweet Abbie. She is 9 1/2 months old, a very sweet baby that loves her mommy and daddy. She doesn't want to go to other people very well. She is most content at home and doesn't like to go out too much. She is showing interest in books, and seems to want to explore a few of the toys that we have around the house. She doesn't crawl but scoots around on her tummy. We say that Kendra was a back stroker, (she wouldn't' crawl either but moved on her back), and Abbie is our breast stroke baby. She is wanting to climb stairs and shows the promise of being my climber.
I hope that helps in understanding who my children are just a bit. :)